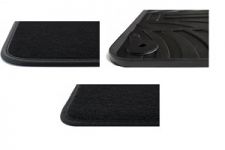 Update of Our Car Mats Range

Dear relation,
We are pleased to inform you about recent developments within our car mat range:
Expansion and Improvement: Our range has been both expanded and improved and now includes more than 3,000 unique car mats, available in both needle felt and velor quality.
License plate integration: Each of these mats can now be traced through various license plate systems and is linked to more than 24,500 unique car types.
Leading Position: With these expansions we are proud to announce that our range is the most extensive in the entire Benelux.
Optimized search function: To optimize the user experience, we will exclusively switch to the license plate search system and the option "search by car brand", integrated with the most current RDW data.
Deprecated Old Search Methods: Please note that the previous search methods via the "menu structure" with buttons with brands are considered obsolete. These will be removed from our system on September 1, 2023.
If you have any questions or comments about these changes, please feel free to contact our sales department
Yours sincerely,
Team Sinatec