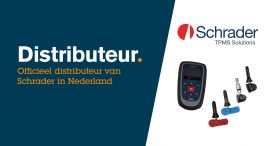 Sinatec Europe is from now on official distributor of the TPMS range of Schrader international in the Netherlands.
Schrader TPMS Solutions is the automotive aftermarket brand of Sensata Technologies and the leading global manufacturer of tire pressure monitoring systems (TPMS). Over the past 175 years, with the pursuit of innovation, Schrader developed and introduced a variety of valves and pressure gauges.
Sinatec presents itself as a one-stop-shop in the automotive after-market with more than 28,000 small material references. Sinatec has had TPMS in its range since 2013, partly due to the good range, the help desk, problem solutions on location, and the range of training courses that Sinatec can call itself a TPMS expert. The intensification of the cooperation between Schrader and Sinatec is another step further on the professionalization of the TPMS market approach.
"TPMS has been on the rise for years and we want to be able to provide the market with this. This is also reflected in our TPMS helpdesk with which we offer extensive support, "says Gijs Jespers, director of Sinatec. "The distribution shelf with Schrader is a great step in that direction. Schrader is an A-brand with a rich history of 175 years in this market. "
Sensata Technologies is also pleased with the new collaboration: "We are looking forward to expanding our customer base and are pleased to announce a new partnership with Sinatec Europe," said Winfried Menge, Aftermarket Sales & Business Development Manager at Sensata Technologies. "I am confident that Sinatec's commitment to providing excellent customer service and their industry expertise will help further strengthen Schrader's presence in the Netherlands!"
Schrader's programmable (universal) sensor solution covers more than 97% of newly registered cars and the entire European fleet.
You can also cover 82% of the newly registered cars and 79% of the European vehicle fleet with 26 OE replacement sensors from Schrader.
Shortly after the announcement of the distribution shelf with Motip for the BeLux, this is another great step for Sinatec Europe.
View the Schrader OE sensors
Go to the TPMS portal