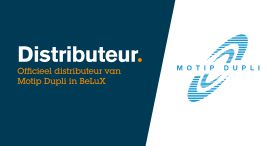 Sinatec Europe is now a distribution partner of MotipDupli for the distribution of Motip products in the Belgian & Luxembourg automotive market. All products are now in stock and can be ordered via the webshop.

The Motip brand comes from the manufacturer Motip Dupli located in Wolvega and is a specialist in the production of spray cans and paint markers. Motip Dupli is the market leader in its field in Europe and with three production companies they produce more than 120 million spray cans on an annual basis. With the MoTip, DUPLI-Color, Presto and ColorMatic brands, Motip Dupli Group is mainly active in the automotive, DIY and industrial markets with a large range of spray cans. Varying from high-quality (car) paints to more technical products, such as brake cleaner and silicone sprays.

"Motip has been on our wish list for a while", says Gijs Jespers, director of Sinatec. "We are extremely proud of this beautiful addition to our range, especially because it is a complete product range that seamlessly connects to our products and concepts. With the power of MoTip Dupli we can act together as professional partners in the market. "

The decision to make Sinatec Europe a distributor for the BeLux market is based on the distinctive character of the local market. The range, logistics & IT solutions and local presence in the market are things that have led to this beautiful partnership.

Sinatec Europe already strengthened its team for the summer period with Jacques Coppieters as Business Development Manager BeLux.


View the Motip range