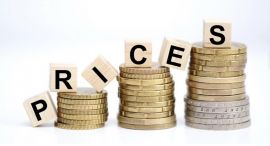 Adjustments

Price changes:
Partly due to the corona virus, various costs have increased, including the logistics and the costs of raw materials.

Logistical costs:
Due to the increased demand in the transport sector, the delivery of products has become more difficult and logistics costs have increased.

Supply of raw materials:
This is related to the fact that the supply of raw materials is also more difficult, so they are scarcer, resulting in a price increase.

Although we have been able to maintain the prices of our items for a longer period of time, these price increases also affect our items. As a result, we are also forced to implement price increases.
Car mat sets:
The gross price and discount have also been increased for the mat sets. This makes no difference to you, but do not forget to adjust this in your system!
These price changes will be valid from March 1, 2021. The new price list can be downloaded from February 1 in the "Price list" section when you log in!
The biggest new addition to this price list is the ACV range. ACV is a manufacturer of automotive hi-fi products and interior accessories based on OEM standards and standardized products for the automotive market (after). This gives Sinatec, and therefore you, access to an assortment of over 5,000 items, including:
Antennas
Radio panels
Cable sets
Car controls
Inductive charging options
ACV items for every car are easy to find by make, type and year! In addition, the items are also available in the Aldoc parts platform! Check out the full line here.
You will also find an Excel overview with all expired and replaced article numbers. Process this to have the correct data in your system and to avoid problems with subsequent orders!